Hey all!
So I was off yesterday, nursing my little king back to health and I decided to pamper azizi (my hurr). I had recently ordered some rhassoul clay from Etsy and figured that it was the perfect time to try it out.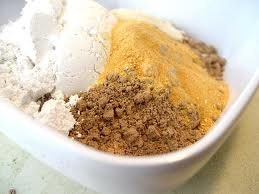 Courtesy of sheabutterlicious' etsy shop:
There is no question, that a banana mask is good for the hair. A banana hair mask can increase the moisture content in hair, smooth frizzies, and soothe your scalp. It keeps hair healthy and hydrated, helps nourish scalp and control dandruff. Bananas contain minerals and other nutrients that promote hair recovery and rehabilitation, but who wants to try get mashed bananas chunks out of their hair. That's where this honey banana mask comes in, it cleanses, detoxifies and conditions scalp and hair.
Rhassoul Clay cleanses and detoxifies hair. Honey and Banana nourishes, moisturizes, and conditions hair. This hair clay can be mixed with water or Aloe Vera juice, make into a thin paste and apply to hair and scalp. Leave on 15-25 minutes and rinse thoroughly. Then follow up with your usual hair routine.
http://www.etsy.com/listing/118751191/rhassoul-clay-hair-mask-honey-banana
So I don't really follow directions when it comes to mixing things…yeah I know..don't stone me. But I eyeballed a medium sized amount of the rhassoul clay mask and added to it, warmed milk, raw honey, amino acids (for a little protein), JBCO and some sheascent it conditioner just to thicken it up a bit. I then applied the mixture to my hair and placed a shower cap over it and a hat and let it sit for an hour.
After an hour I washed it and and…WHOA was my hair extra soft and my curls were poppin hunny. My hair felt clean, but not stripped and it totally tammed my frizzies.
….HOLY GRAIL ALERT: I followed up with Oyin's Handmade Honey Hemp conditioner… & let me just say that this stuff is the BOMB baby. Since discovering I was a low po diva, honey & I have became BFFs and boy did this conditioner treat Azizi well. Soft supple hair, detangling was a breeze and left the curls looking amazing. This condish does contain hydrolyzed silk protein but my hair doesn't mind small amounts of protein so all was well.
http://www.oyinhandmade.com/hair/honey-hemp-conditioner-180.html
I then did my LCO method using, L: KCCC leave in, water & jbco oil C: Oyin Handmade Whipped Pudding (love this stuff as well) O: JBCO infused with lavender
Lastly, I installed my third set of marley twists and this time I made smaller parts and used 3 strands of hair to get a thicker fuller look. I'm going to boil the ends with perm rods tonight.

Peace & Love ❤