Hi all 🙂
I'm back to update you all on my thoughts about the L'Oreal Pure Clay Mask, Exfoliate & Refine Pores that I picked up from Walgreens a couple of weeks ago.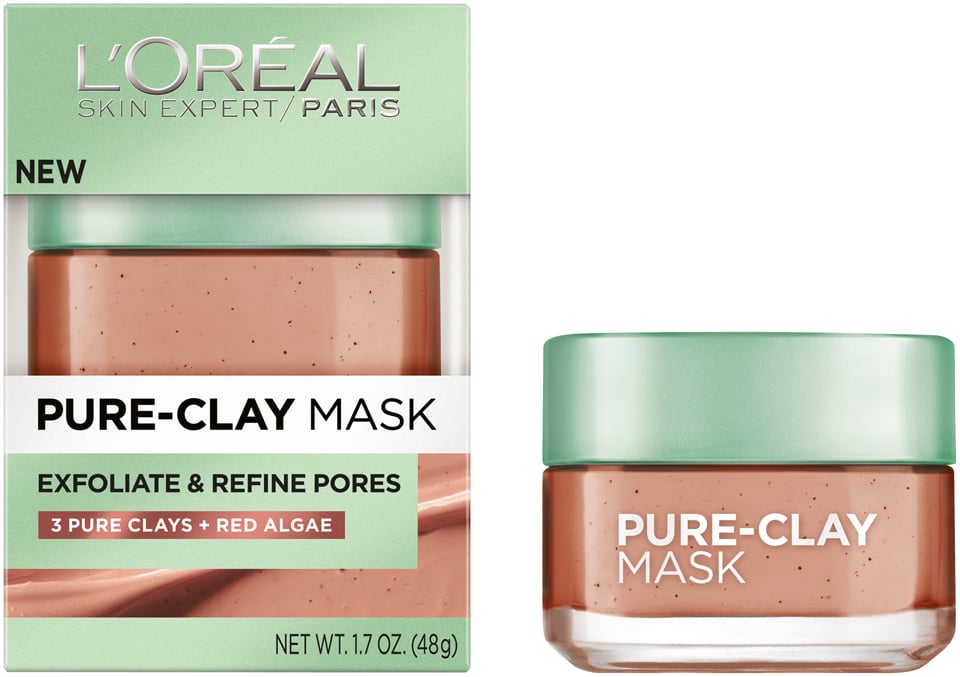 This product retails for $11.49 and currently Walgreens is running a buy 2 get 1 free special on all skin care items.
Here are the quick specs from Walgreens.com:
L'Oreal Paris Skin Experts have created a super-charged pure clay mask enhanced with Red Algae Extract to exfoliate and refine your skin in just 10 minutes. Our unique and efficacious formula provides a multi-sensorial fragrant experience while potent pure clays and volcanic rock exfoliate dead skin cells and smooth surface imperfections. Exfoliate & Refines Pores Pure-Clay Mask addresses rough and clogged skin to reveal a polished pore-minimized and smooth complexion.
Immediately skin texture appears refined and smooth. Pores are visibly minimized. Dead cells dirt and oil are removed from skin. Use after imperfections are less visible.
Skin feels as though it can breathe better. Skin is healthy looking with a beautiful glow.
& the directions:
Apply an even layer to clean dry skin avoiding eye and lip area. Leave on for 10 to 15 minutes then remove with water in circular motions to exfoliate. For best results use 3 times a week.
My Thoughts:
Pros:
Face didn't feel tight in t-zone after use.
Skin was smooth after use.
Wasn't harsh on my sensitive skin.
Cons:
Smell
Not really a con – but dries really fast and is somewhat difficult to remove.
Left over beads after washing.
Initially when I used this my sensitive skin didn't react at all which was shocking. However the skin on my hands reacted to the mask and they were red and slightly inflammed. Now I don't know if that's just a pregnancy side effect or whatever because it didn't happen the next few times I used it.
My only gripe is that this dries super fast and if you don't use a washcloth or exfoliating brush to remove then you are left with pink patches.
I would definitely recommend using a washcloth or exfoliating brush when removing the product and follow that up with a dry rag to remove any left over product.
Overall, I probably won't repurchase this product mainly because of the smell. Again it could just be my sensitive pregnant nose but I'm not a fan.
I will be testing the Purify and Mattify mask next. Be sure to check back for my review on that product.
Have you ever tried this face mask? What were your thoughts?
Peace and Love ❤